Age Pioneers is an Action Panel of cross-sector HRDs and Heads of D&I. It includes the likes of Unilever, EY, Capita, Dentsu and Boots. We have a core group that attends each month and picks apart a single topic in relation to age inclusion. We use the first 30 mins to interview our panel on the topic to share their experience and have a Q&A (which is recorded and turned into a published article), then the next hour the group becomes the panel and debates the topic under Chatham House rules in an unrecorded event to allow peer networking and collaboration.
Session 4: Retraining and Reskilling Older Workers
The Recap

By 2024, half of all working adults will be 50 plus. This a huge pool of workers who are not, for the most part, being considered for retraining and reskilling that will allow them to become part of a future productive workforce. The present government is keen to get the over 50s back in the workplace as part of their push for growth in the UK. And it makes sense.
These are people who have decades of experience in the workplace, transferrable skills, soft skills, insights and more who can offer so much to Britain's employers – and yet ageism is denying them the opportunity. But what are the barriers? Are they constructed by the UK's employers, by society's unconscious bias or by the over 50s themselves, many of whom feel they no longer have the skills required by the modern workplace?
The answer is probably all three but it's a dilemma that is not going to go away and will become ever more important over the coming years. Plus, the over-50s demographic is one everyone is going to be part of one day – if nothing else, it's in everybody's self-interest to engage with how older workers can be reskilled and retrained to be part of a modern, thriving Britain.
Guest Speakers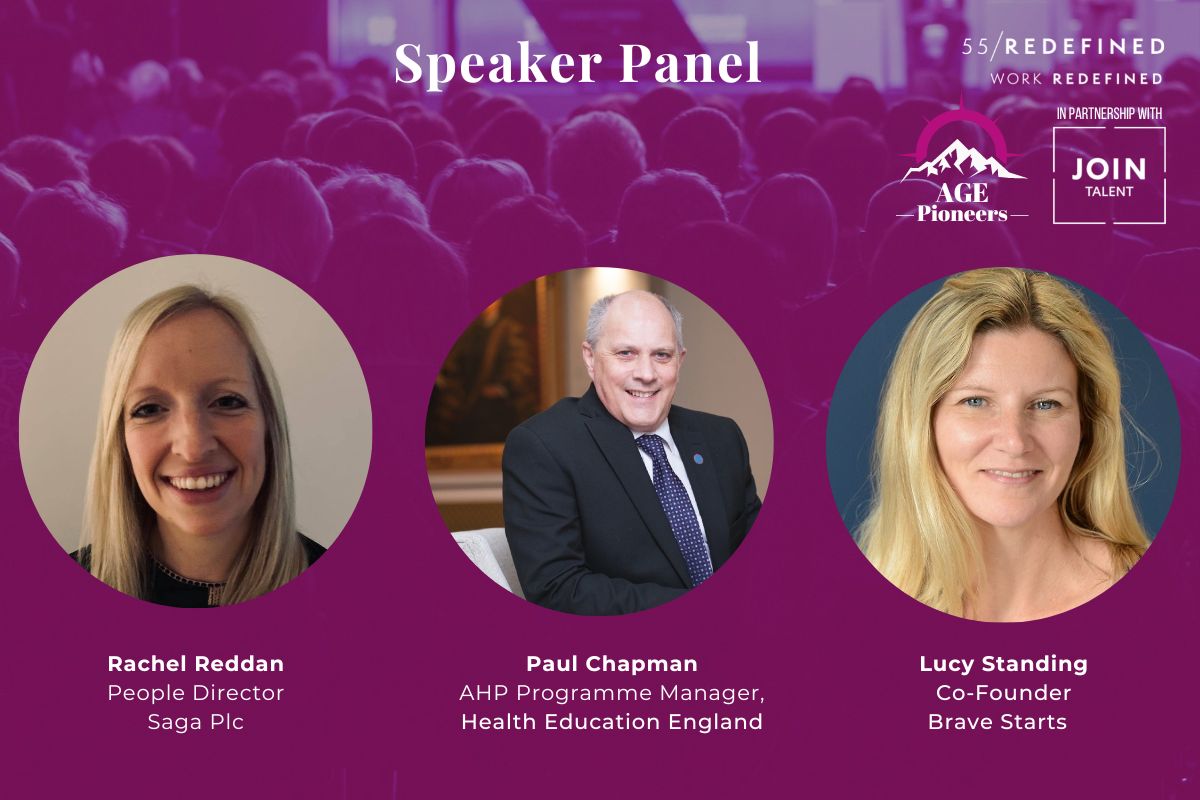 Rachel Reddan – People Director, Saga Plc

Rachel has over 15 years of HR experience across the retail and travel sectors for major brands including Tesco and Qantas, and most recently in her present role as People Director for the Saga Travel Group. Saga is a commercial company focussing on the over 50s, providing insurance, travel, personal finance and more. The company aims to be the UK's largest and fastest growing commercial network for older people.
Paul Chapman – National AHP Programme Manager, Health Education England

Paul is a registered physiotherapist with 36 years' experience working in a variety of arenas in the NHS. He has a keen interest in supporting those looking to return to the medical profession or those considering changing their career to train and work as an Allied Health Professional (AHP). AHPs make up the third largest workforce in the NHS and consist of 14 individual professions, ranging from osteopaths and radiographers to speech therapists and paramedics. Health Education England is an arm's length body within the NHS.
Lucy Standing – Co-Founder, Brave Starts CIC

Lucy is an expert in the field of mid and later life career development and is driven to ensure actions taken by individuals or organisations are based on evidence of what works. She is co-founder of Brave Starts, a non-profit organisation which helps people consider and work out what they want to do next, as they get older. Lucy is a Chartered Psychologist, Associate Fellow with the British Psychological Society and Certified Principal Psychologist with the Association for Business Psychology – a professional body for which she was Vice Chair for nearly 10 years. Prior to her non-profit career, Lucy worked in the strategy consulting and investment banking sectors as a psychologist.