Article may contain sponsored links
4. Reskilling and Retraining Older Workers | Age Pioneers Action Panel Report
This report highlights the salient points from the session on Reskilling and Retraining at 50, with our guest speakers, and the subsequent Q&A.
James Marsh
A published author, as well as a corporate and lifestyle media professional, James works across content, marketing and consultancy.
Age Pioneers is an Action Panel of cross-sector HRDs and Heads of D&I. It includes the likes of Unilever, EY, Capita, Dentsu and Boots. We have a core group that attends each month and picks apart a single topic in relation to age inclusion. We use the first 30 minutes to interview our panel on the topic to share their experience. We then have a Q&A (which is recorded and turned into a published article). For the next hour the group debates the topic under Chatham House rules in an unrecorded event, to allow peer networking and collaboration.
Session 4: Retraining and Reskilling Older Workers
The Recap

By 2024, half of all working adults will be 50 plus. This a huge pool of workers who are not, for the most part, being considered for retraining. It's a missed opportunity to reskill them, that could allow them to become part of a productive future workforce. The present government is keen to get the over 50s back in the workplace and on a solid career path as part of their push for growth in the UK. And it makes sense.
These are people who have decades of experience in the workplace, transferrable skills, soft skills, insights and more who can offer so much to Britain's employers. Yet ageism denies them the opportunity. What are the barriers for a career change at 50? Are they constructed by the UK's employers, by society's unconscious bias or by the over-50s themselves, many of whom feel they no longer have the skills required to start a new career in the modern workplace?
The answer is probably a little of all three, and it's a dilemma that is not going to go away. In fact, it will become ever more important over the coming years. Plus, the over-50s demographic is one everyone is going to be part of one day – if nothing else, it's in everybody's self-interest to engage with how older workers can be reskilled and retrained to be part of a modern, thriving multigenerational workforce.
Guest Speakers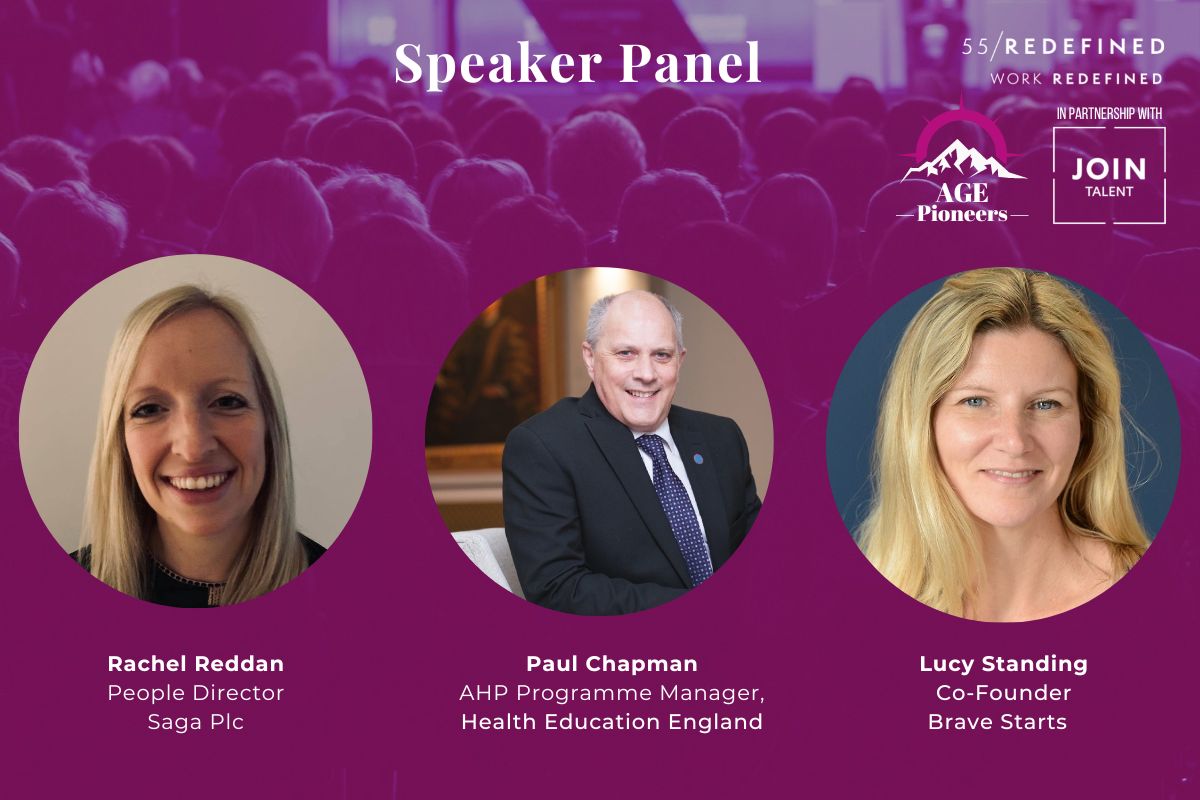 Rachel Reddan – People Director, Saga Plc

Rachel has over 15 years of HR experience across the retail and travel sectors for major brands including Tesco and Qantas, and most recently in her present role as People Director for the Saga Travel Group. Saga is a commercial company focusing on the over-50s, providing insurance, travel, personal finance and more. Saga aims to be the UK's largest and fastest growing commercial network for older people.
Paul Chapman – National AHP Programme Manager, Health Education England

Paul is a registered physiotherapist with 36 years' experience working in a variety of arenas in the NHS. He has a keen interest in supporting those looking to return to the medical profession or those considering to start a new career to train and work as an Allied Health Professional (AHP). AHPs make up the third largest workforce in the NHS and consist of 14 individual professions, ranging from osteopaths and radiographers, to speech therapists and paramedics. Health Education England is an arm's length body within the NHS.
Lucy Standing – Co-Founder, Brave Starts CIC

Lucy is an expert in the field of mid and later life career development and is driven to ensure actions taken by individuals or organisations are based on evidence of what works. She is co-founder of Brave Starts, a non-profit organisation which helps people consider their career path and work out what they want to do next, as they get older. Lucy is a Chartered Psychologist, Associate Fellow with the British Psychological Society and Certified Principal Psychologist with the Association for Business Psychology – a professional body for which she was Vice Chair for nearly 10 years. Prior to her non-profit career, Lucy worked in the strategy consulting and investment banking sectors as a psychologist.
Watch the Recording of the Speaker's Q&A Session Here
"It may not be retraining or reskilling but reintroducing, and skills augmentation."– Lyndsey Simpson. Founder and CEO, 55/Redefined
Read the Speaker Conclusions

1) Reframe As "Skills Augmentation"
Older workers have many skills and competencies that will add enormous value to any organisation. So, try not to think of this age group as reskilling or having a career change at 50, but instead as a group that is in the process of skills augmentation. They haven't suddenly lost 40 years of engagement, corporate communications, empathy, workplace practices and understanding others. They are just adding new skills to an already impressive wide range. Even if an individual may not have specific skills, he or she will bring many transferable skills and that should be recognised, as well as remunerated.
Sometimes, previous skills and qualifications may not be an obvious fit for a new role or to start a new career. However, as Paul Chapman of Health Education England noted, with his work for those leaving the armed forces, if you can map those wide range of skills and qualifications against what you need, you may find you are a lot closer than you imagined. And with a training course or two, you could have an ideal fit. Paul explained: "It's about taking their skills and knowledge, and identifying where those skills and that knowledge could be used in any organisation."
2) It May Not Be Retraining or Reskilling, but Reintroducing
There is a large group of over-50s who left their chosen career due other commitments – bringing up children, working as a carer to a relative or moving locations to support a partners' career. These people do not need a full training course to do the job, but a reintroduction to the workplace.
Paul Chapman said, "These individuals have already got the skills, they've already got the T-shirt. They are highly skilled people who, for some reason, chose to step away from their chosen career path. They are now at a time of life that allows them to return to their primary occupation. They never lost their skills and enthusiasm. It's about us bringing them in, building their confidence and allowing them to work in that environment they trained so hard to get into in the first place."
The big four accountancy firms have been running initiatives based on this principle for over a decade. They target people who have been out of the workforce for two to 10 years (often women who have been looking after families but not exclusively), who have the skills and knowledge, but just need the flame rekindled. From a business perspective, it's much quicker cheaper to recruit someone who has already been trained, than starting from scratch with a trainee. Clearly, those who have been absent from the workplace may need to have some practices updated, but they already have the foundation and the knowledge. They've done the training, so why not try to get them back?
3) It's Not All About Money
As people move through life, their values change. What is important for workers in their 20s and 30s, is not of such importance for the over-50s. Younger people tend, as Lucy Standing said, "to care more about things that are self-enhancing. Power, achievement, stimulation and hedonism." As we get older, we tend to place higher value on community, the performance of a team, wider society and so on. And salary, while important, is not necessarily the biggest driver; what appeals is the social side of work life, so that is one way to entice older workers back to the workplace.
Many studies have shown that people who enjoy and gain satisfaction from work, age better. This is seen in such markers as life expectancy, physical health, cognitive health or social networks. The converse is also true.
As one attendee put it, "older workers know they want to do something, they know they don't want to retire and they know they don't want to do what they have always been doing." Instead, they are left grappling with the existentialist concept of "purpose" – essentially, the reason to work, beyond salary. And it can lead to dissatisfaction and unhappiness.
This can result in them looking for work in the charity sector or social enterprise, only to discover it is very competitive and they may not be able to have the chance to make the impact they want. Employers can help older workers find purpose by focusing on things that make a meaningful difference to their colleagues and peers. One attendee noted that "knowing what you don't want to do can quickly focus you on the breadcrumbs of your existing skills" – and that can lead to finding contentment in the workplace and life.
4) Apprenticeships and Retraining
Apprenticeships are one of the success stories of workplace training in recent years. They aren't just for teenagers and those in their early 20s. Older workers are often happy to take the long view on a career change at 50 – a couple of years training now will set them up for the next 20 years. As money may not be the be all and end all, they are prepared to earn less while they retrain, to have the life they want later. Barclays has an apprenticeship scheme specifically aimed at people over-50 who have not worked in financial services, called Barclays Bolder.
When creating an apprenticeship scheme aimed at this cohort, ensure any campaign is marketed appropriately using images of the demographic (not photos of teenagers!), empathetic language and stories that resonate with them. Or avoid using imagery altogether, leaving the end users to make up their own minds.
Key Recommendations
1) Support The Over-50s Demographic
If you are trying to recruit the over-50s, aim to use a recruiter who is in the same demographic. It makes it easier for the candidate and recruiter to relate to each other, and it shows you are talking the talk, walking the walk. Katrina Hutchinson O'Neill, Co-Founder and CEO of Join Talent noted that her company has many recruiters who are in their 50s and they are very successful in bringing in over-50s. EY now requires their recruiters to look across the entire age range when seeking candidates.
It's no surprise, but setting targets also helps. Rachel of Saga noted, "We track our data, both internally and externally, with the focus on age. We want to ensure the age demographic of our staff reflects that of the working population. We continually measure this and other markers, and really challenge ourselves to meet our targets." So, whether it's aiming to change the age demographic of the company, rewriting recruitment policies, altering mentoring programmes or opening up training opportunities, setting targets gives organisatitions something to aim for.
2) Let People Test Drive a New Career or Role
When people reach their late 40s and into their 50s, they know what they will and will not tolerate as part of working life. The difficulty with a job description is that it doesn't distill the reality of the people in the team, the office culture, the workplace environment and so on.
These are very important considerations for the over-50s. Try to encourage insight sharing – one of the best ways to do this is to arrange work shadowing or work experience. That way, candidates can get under the skin of the role and see what it is really like. If the potential employee likes it, they will buy much more into the role.
Ultimately, recruiters may feel they can make a selection decision but it is the candidate who will make the engagement decision. Do everything possible to help that process.
3) Consider Helping Employees To Plan Their Future
By helping people consider what they want to do with their life, retirement can be delayed or staggered until actual retirement begins in their 70s or later. Action Panel member Liz Gray, from accountancy firm EY, said she called this period in between work and full retirement the "Encore" years.
It's a time when full-time executives move to part-time roles, and they can use the extraordinary skills, networks and experiences they have gained through work to benefit others. Consider creating a programme that these people want to associate themselves with – it will be good for them and good for society.
4) Create a Community
Meeting others in a similar situation is really powerful. It's why self-help groups such as Alcoholics Anonymous and Weight Watchers are so effective. Creating a community of over-50s workers enables people to have conversations with those in a similar position and to see there is a path to the future that can work.
When over-50s can relate to each other on the issues they all face, it can be incredibly enabling and empowering – and this can only help workplaces celebrate the benefits of multi-generational teams. You may even be able to find a "poster child" of an over-50s employee who is happy to be an example to others.
Maintaining an effective alumni network has significant benefits: not only does it allow employees to see the possible future, but it is also a pool of known, skilled and knowledgeable employees who can be encouraged back into the workforce.
5) Make Continuous Learning Part of Company DNA
In the NHS, staff have to maintain their skills and knowledge. And this keeps the health service moving forward. Other industries are different – one insurance company recently noted that workers over 50 were 37% less likely to be offered learning and development than their younger colleagues. By offering all colleagues, regardless of age, the chance to learn new skills and knowledge, the organisation can add real value to the business. As Rachel Reddan of Saga said, "We have lots of initiatives aimed at older workers and we keep them running all the time; to keep the drumbeat going, so that it doesn't fall off the radar."
Final Thought: There Is No Blueprint, You Just Have To Do It
Almost every FTSE company has a graduate scheme. How many have a career change scheme? It's time companies started to consider this. Rachel at Saga suggested looking through an "age lens." That means putting yourself in your over-50s' shoes and seeing what work looks like from their perspective. That will enable you to create new policies that will work. Rachel added that Saga actively tasks itself with helping all colleagues understand and challenge their own perceptions about age. They then use the feedback to improve Saga's approach to age in the workplace.
Lucy at Brave Starts said so many people are looking for a single blueprint of how to action effective initiatives for the over 50s… but there isn't one. "You just have to make a start. By doing something and publicising it, you will learn. There is a huge amount of uncertainty, that's true. But take those first steps, because you will learn from those steps and nobody will begrudge you or criticise you if you're making an effort."
This session was recorded in October 2022.
Age Pioneers is brought to you in partnership with Join Talent, EMEA's leading partner for embedded recruitment solutions & TA strategic consultancy,