Article may contain sponsored links
8. The Business Case for Hiring Older Workers | Age Pioneers Action Panel Report
This report highlights the salient points from the session with our guest speakers.
James Marsh
A published author, as well as a corporate and lifestyle media professional, James works across content, marketing and consultancy.
Age Pioneers is an Action Panel of cross-sector HRDs and Heads of D&I. It includes the likes of Unilever, EY, Capita, Dentsu and Boots. We have a core group that attends each month and picks apart a single topic in relation to age inclusion. We use the first 30 mins to interview our panel on the topic to share their experience and have a Q&A (which is recorded and turned into a published article, as here). The next hour the group becomes the panel and debates the topic under Chatham House rules in an unrecorded event to allow peer networking and collaboration.
February's webinar followed hot on the heels of the first in-person Age Pioneers event at EY's offices in London in January. If you couldn't be at that session, you can catch up on the key discussion points here: The secret to an Age-Inclusive workforce.
Proving the Business Case for Hiring Older Workers.
Lyndsey Simpson, founder and CEO of 55/Redefined summed up the topic: "We always find there are people who just get the idea of over-50s in the workplace – perhaps it's the Chief People Office or the Head of D&I. But they come up against a senior stakeholder who says, "Show me the data. Show me why we should reframe our definition of talent to include the population of over-50s. Show me the business case.'"
Age Pioneers asked two acclaimed speakers for their thoughts:
Alun Baker, CEO of GoodShape, the employee absence, wellbeing and performance experts. With over a billion data points and 22 million days of absence data, GoodShape's database is the largest single resource of insight into work-related illness and wellbeing in the UK.
Carl Honoré, a bestselling author, broadcaster and two-time TED speaker. His best-selling book Bolder is a spirited defence of ageing – how we can do it better – and a rallying cry against ageism.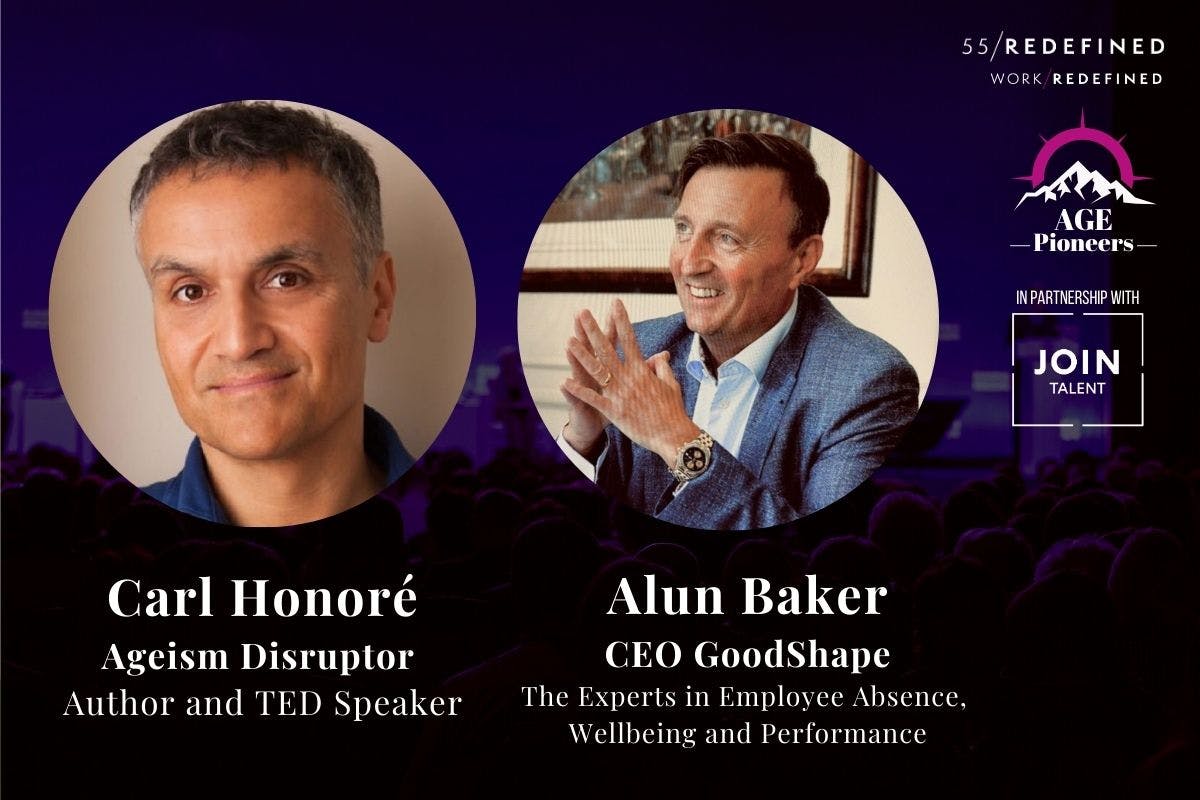 Learnings from Our Expert Panel

Older Workers are not Less Productive than Younger People

Carl: "Across all socioeconomic groups and cultures, we get better at the social stuff as we grow older: we get better at listening, resolving conflicts, reading people and leading. All of which are fundamental for being productive in the workplace. This is why studies show the productivity of older workers tends to rise in jobs that rely on social acumen. Due to their experience, over-50s are able to spot patterns and details that allow them to join the dots and unlock solutions to difficult tangled problems.
"Also, the over-50s feel more ease in their own skin and are not worried about what people think of them. It's an antidote to group think. They're going to call out a bad decision or point out a plan isn't working. This is immensely helpful for any organisation, in any sector of the economy."
Business case conclusion: Older workers offer insights younger workers just don't see. Multi-generational teams make the most of all workers' talents and strengths.
Older Workers are not Sick More Often

Alun: "Businesses make huge assumptions about the over-55s, but the data tells a different story. For example, older workers are much more resilient when it comes to absence recurrence. In the over-55s, absence recurrence is 9%, yet in the under 25s, it's 25%. That's a staggering data point. The over-55s turn up even if they are feeling sick."
Business case conclusion: Older workers are consistently absent less often than younger workers. They are more reliable and cause less disruption, saving organisations money.
Creativity Does Not Diminish with Age

Carl: "The idea that older people lack innovation and are not creative is one of the most pervasive stereotypes. But is also one of the most wrong. Studies show human beings can be immensely creative at any age and some forms of creativity depend on two things that only ageing can confer: time and experience.
"A good example is Nobel prize-winner John Goodenough. He helped pioneer the sustainable battery and is now leading a team at the University of Texas in Austin, which is taking batteries one creative leap after the next. John Goodenough is one hundred years old."
Business case conclusion: Older workers have work and life experience that younger workers cannot draw on – and can use that to your company's advantage.
Recording Data Related to Age is Vital

Alun: "FTSE 100 companies are already awarding bonuses related to wellbeing. Soon, I think companies will be penalised for bad health and wellbeing. They will have to take responsibility for wellbeing. For that, you need data to prove you are measuring it – to us, that is measuring absences. So, it is critical to become aware of the need to measure effectiveness of wellbeing and health, particularly in the older generation. You are going to have to provide services to support that group and there's a different need compared to people who are under 30. And you are going to have to demonstrate that with data related to age."
Business case conclusion: It seems likely there will soon be regulatory requirements with reference to recording age – get ahead of the curve and start now.
If you need to talk to a consultant about how you use your data, email 55/Redefined at hello@55redefined.com to find out how an Age Diagnostic Review can help you.
Mid-Life Workers are Better and Quicker Learners

Carl: "One of the toxic myths about ageing is that older people fall off a learning cliff – and it's just utterly untrue. Harvard University concluded that the capacity to understand how the world works and how everything slots together – which is the cornerstone for understanding how to solve problems – only fully ripens around the age of 50.
"Buck Consultants surveyed companies across all sectors of the US economy and asked them about learning within their workforce. And 70% of managers said that older employees, 45 and up, learned more thoroughly and more quickly than their younger staff. A different study of companies that run suggestion boxes or the digital equivalent found that the best ideas tended to come from the over-55s."
Business case conclusion: Older workers learn more thoroughly and more quickly than younger workers. They are your problem solvers.
Businesses Founded by People at Mid-Life are More Successful
Carl: "All studies across countries around the western world show that you're more likely to set up a successful start-up or launch a new business in middle age or beyond. To illustrate, there was a study of all businesses formed in the United States in a seven-year period across all sectors. That's 1.2 million businesses. The study concluded that it is people in their late forties and up who are more likely to launch a successful business. A great UK example is Anne Boden who launched Starling Bank as a first-time entrepreneur when she was 56 years old."
Business case conclusion: Older founders are more likely to launch a successful business – use the wisdom that comes with age for the betterment of your business.
Age Pioneers is Sponsored by Join Talent

A huge thank you to Join Talent for their continued sponsorship of Age Pioneers. Join Talent is a recruitment and talent acquisition consultancy specialising in helping tech, product and digital teams. It is one the fastest growing companies in Europe – 13th place in the 2023 Financial Times 1000 Fastest Growing European Companies. It is also the youngest company on the list. Follow Join Talent on LinkedIn
The Action Panel privately discussed these points following the speakers Q&A which is not recorded. To be part of this confidential conversation, get in touch HERE. Missed a session? Access previous recordings and articles HERE.