Article may contain sponsored links
10. How Age-Inclusive are Application Processes and Online Portals? | Age Pioneers Action Panel Report
This report highlights the salient points from the session with our guest speakers
James Marsh
A published author, as well as a corporate and lifestyle media professional, James works across content, marketing and consultancy.
Age Pioneers is an action panel of cross-sector HRDs and heads of D&I. It includes the likes of Bank of Ireland, Unilever, EY, Capita, Dentsu and Boots. We have a core group that attends each month and picks apart a single topic in relation to age inclusion. We use the first 30 minutes to interview our panel on the topic to share their experience and have a Q&A (which is recorded and turned into a published article, as here). For the next hour, the group becomes the panel and debates the topic under Chatham House rules in an unrecorded event to allow peer networking and collaboration.
Recruitment has made great use of the digital revolution, from using exclusively online application processes to analysing candidates' submissions with applicant tracking software. But does this digital-first shift discriminate against older workers? Age Pioneers' webinar in May explored whether application processes and online portals are age friendly.
How Age-Inclusive are Application Processes and Online Portals?
Joining Lyndsey Simpson, 55/Redefined's founder and CEO, our guest speakers were:
Gina Poole, Head of Workplace Solutions at 55/Redefined. After a career in financial services, Gina moved into HR and has worked across a broad range of industries advising HR teams around diversity and inclusion, strategy, HR policy, operations, leadership and more. Gina's role at 55/Redefined is to help clients assess the age-inclusivity of their organisation, from recruitment through to retirement planning. She is an expert in the conscious and unconscious biases that occur within the recruitment process.
Penny Tongo, Senior Talent Acquisition Manager at Ipsos UK. Ipsos is one of the world's largest market research companies, operating in 90 markets and employing over 18,000 people. Penny is a recruitment specialist, with an impressive background in organisations with strong social focus, recruiting for roles and social housing, early childhood education, and other social enterprises. Ipsos has been working with 55/Redefined on creating effective recruitment campaigns to reach the over-50's.
Katrina Hutchison O'Neill, Co-Founder and CEO of Join Talent. Founded at a kitchen table in rural Scotland four-and-a-half years ago, Join Talent has now grown to more than 200 people in 23 countries. Katrina was awarded Scale Up Entrepreneur of the Year in 2022 and has been named one of 2023's Top 100 Most Influential People (UK). Join Talent recently won The King's Award for Enterprise for International Trade. Join Talent offer a series of excellent, free resources on TA insights which can be found here.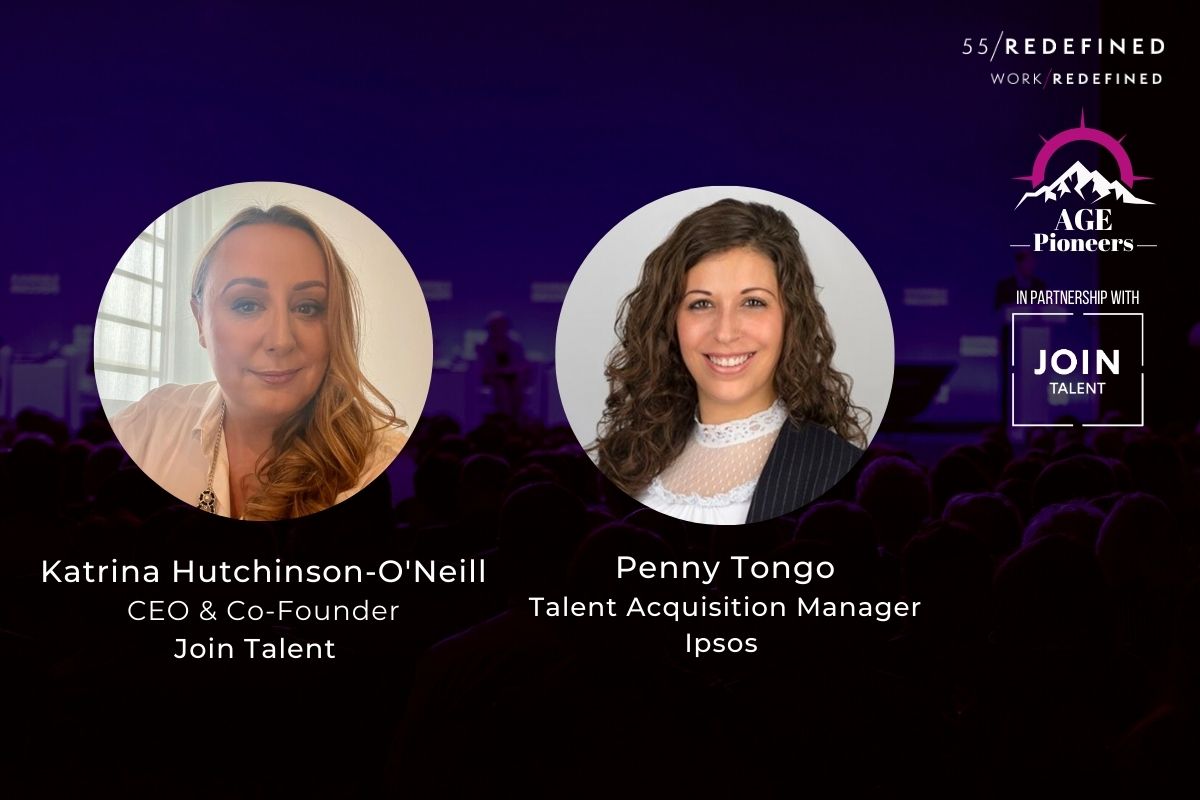 The Reality of Job Hunting for the Over-50's
Anyone seeking employment will spend most days searching online job sites and submitting online applications. On the surface, this seems to be a transparent process, that puts all applicants on a level playing field where only experience and qualifications count. What's clear, though, is that these processes are not actually age friendly.
According to one Age Pioneer attendee, the success rate for younger people applying for a role through a job board is 10-20%; if you are an older worker, it drops to 1-3%. It can be argued that modern recruitment processes are preventing employers from accessing some of the most experienced talent available, at a time when there are huge skills shortages in the workplace.
This has been confirmed by a 2021 report from Harvard Business School and Accenture called Hidden Workers: Untapped Talent. The report found that candidates who uploaded CVs with gaps in work histories were automatically disqualified by some AI screening tools. And, typically, it's older workers who have gaps, particularly women. "But," as Lyndsey Simpson, CEO of 55/Redefined noted, "surely in these times of recession, high interest rates and uncertainty, you want people who have seen it all before and come out the other side? Candidates with experience: and that only comes with age."
Over-50s Frustration With Online Application Processes
It takes someone in their 50s who has been made redundant two to three times longer to find work, compared to a younger person in a similar position. Gina Poole said: "The over-50s say that in their earlier years, they had no problem securing an interview. So, the only thing that they can put the lack of interviews down to is their age. The feedback we receive from them is a frustration with the online application process."
A frequent complaint is the amount of irrelevant information that is requested. "For example," said Gina, "the requirement of a degree for a basic-level role, when many over-50s didn't go to university." (In the 1980s, about 15% of young people went to university; it is now about 50%.) "The consequence is that over-50s are reluctant to invest a lot of time applying for jobs online when they feel that the opportunity of being invited to interview is very low."
The solution: Application forms and processes should be simplified, shortened and checked for unnecessary questions that may discriminate against older workers. This is an area where Gina has helped many 55/Redefined clients to refine their application process. Contact her here to find out how 55/Redefined can help your organisation.
The Over-50s Are Not Well Served by Most Online Jobs Boards
Penny Tongo explained how using standard online job boards to recruit over-50s had become an issue for Ipsos. "Historically, our market research candidates are made up of over-50s and that has worked really well for us. But post-pandemic, we were seeing fewer and fewer applications from that demographic. The general quality had dropped. With standard job boards, you click through to an application process, you receive an automated email and then if you're lucky you get a phone call and processed for the next stage. It wasn't delivering, so we had to rethink. How could we approach the market in a different way that made sure we were attracting the over-50s talent pool?"
The solution: Here's how Penny and her team addressed the challenge in five clearly-defined steps.
We partnered with 55/Redefined. They helped us target the demographic through their networks and their channels.
We simplified the application process to move away from lengthy questions, so that it takes no longer than five to eight minutes to complete.
We also moved from an 'experience' model to a 'skills' model – we want to know about transferable skills they have.
We used this to create a leads process, then contacted the applicants on the telephone. We saw a huge boost – we had hoped for 100 leads and got 420. More than that, we've been tracking the performance of our new starters and we can see an improvement in the quality of the people going out in the field. The campaign's been very successful.
We've taken some great learnings about what works with the over-50s. We are going to host drop-in phone sessions on a weekly basis. Anyone who is interested can come onto the drop-in call, hear from the interviewers direct, and the recruiter will be on the call to literally walk them through the application process.
Creating something more personal works well with the over-50s, said Lyndsey. She recommended following Ipsos' lead and building in-person events back into talent acquisition strategies – have a drop-in phone session, recruitment open days or invite the local community to the head office.
Why 55/Redefined's Job Board Works, and 'the LinkedIn Middle'
55/Redefined's job board, Jobs/Redefined, has some subtle, but notable differences from mainstream job boards. Naturally, all vacancies are with age-friendly employers. More than that, though, when clients run recruitment advertising campaigns, users don't apply for roles. Instead, they click "Tell Me More." This action came out of 55/Redefined's insight that this generation want to speak to someone or have a phone call, rather than just fill out a form.
Lyndsey explained that Jobs/Redefined has particular success with what she calls 'the LinkedIn Middle.' "If you are C-Suite, you typically don't need to engage with a job board – you can be in your 50s, 60s, or 70s and comfortably sit on a board of directors or be a non-executive director. Also, if someone wants an entry position, work in a contact centre or work in grocery retailer, there are lots of opportunities. The issue is the LinkedIn Middle. These are the heads of departments. They want – and need – to work. They are team people who want to remain employed. We can help clients reach them." If you want 55/Redefined's help on your recruitment advertising campaign, contact us here.
Short Recruitment Deadlines Hurt Diversity
"The hiring manager is often the person who is responsible for setting the recruitment deadline," said Katrina Hutchison O'Neill. "And time is the single biggest killer of diversity in the recruitment processes. If you're giving a recruiter 20 to 25 days to hire, that doesn't give them much of an opportunity to dig deeper for a more diverse range of concepts."
The solution: Katrina said: "The organisation should look at what they're doing to educate their hiring manager population about timelines. The hiring manager is often caught between what senior executives want from the diversity agenda and the work they are trying to do."
Lyndsey added: "It takes time to target the over-50s proactively. It means rethinking strategy and rethinking outreach materials – we see this all the time. Companies need to plan strategically about this and aim to hire in three months' time. If they get that right and working, then they can do more of that type of hiring, rather than just rinsing and repeating the old processes."
Conscious and Unconscious Bias
Gina noted: "Conscious and unconscious bias continues to be a challenge within recruitment teams. 55/Redefined's own research shows only 24% of HR leaders aged 25-30 are very motivated to hire 55- to 75-year-olds compared to 63% of HR leaders aged 46 to 50. The bias is there and it's a huge barrier.
The solution: "The most important step above is training," said Gina. "It's absolutely vital that we train, educate and give the skills to the people in the frontline who are hiring and leading these multi-generational teams. We must bear in mind who's running these processes and how we can support them better to overcome biases they may not even be aware of."
Katrina added: "Ultimately, it's the hiring managers who are setting the requirements and making the hiring decisions. They're the ones who decide the required skill set and the desired attributes. This is often described as culture fit, but it can go well beyond culture fit. It can be a profile of an individual who will fit in with their team – and that gives clues of the age profile that a hiring manager is looking for."
Make Flexible Roles a Priority
Gina noted: "The over-50s are sometimes known as the Sandwich Generation – they often have responsibility of care for both older and younger members of their family. They know they can't commit to full-time work and fulfil those responsibilities, so they rule themselves out from the beginning. Our research shows that flexibility at work is really important to the over-50s."
The solution: "We must pay more attention to how roles are advertised," Gina said. "Many of the opportunities over-50s are interested in are advertised as full-time, when the employers are actually open to flexible working. Anything that is flexible is more attractive to this cohort."
The Fallacy of "Being Overqualified"
Older workers are regularly rejected because they are deemed to be overqualified. Lyndsey explained: "The phrase 'overqualified' is a misdirection. Often, it's when a young hiring manager feels intimidated by the experience of the person in front of them. They do not understand their motivations, and are distrustful and intimidated. In reality, it's a proactive decision from the older worker. They have decided they don't want the big job anymore. They just want to do the work that they really enjoy.
"Also, there is misdirection around salary. The hiring manager sees a candidate earning more money than they are prepared to pay. They think, 'Why is the applicant taking a pay cut? Are they an underperformer? Have they got issues that we are not aware of?' Yet, we know from our research that 89% of those in their 50s will take a significant pay cut in order to retrain, re-skill and do something more interesting."
The solution: Educate younger recruitment professionals and hiring managers on the real reasons why older workers have chosen a less intense role. Help them to understand that for the over-50s, taking a salary cut can be a positive, proactive decision.
Six Age-Positive Hacks Discussed at This Age Pioneers Session
1. Use the over-50s in your employee resource group to rip apart your website, apply for a job in your organisation and see if they could get rehired. You'll be empowering the employee resource group to make tangible change, as well getting fantastic insights into your talent strategy at zero cost.
2. Check your Facebook and Google campaigns. Lyndsey said, "We have found that Facebook assumes that 50-year-olds are searching for comfortable footwear, elasticated trousers and steroids! When they aren't doing that, Facebook will assume they are in their 40s, not in their 50s or 60s. So, we have to target 10 years younger to get someone who is in their 50s.
3. Older workers tend to undersell themselves compared to younger generations. Ensure your hiring managers are aware of this, otherwise they might not bring out the best in the over-50s when they interview.
4. Think carefully when describing culture fit. It can mean that recruiters will source those who are just like the existing team, instead of increasing diversity, especially with reference to age profiling.
5. When making the decision to hire older workers, try to put them in the same location. If you place them in different places, they will feel like the only old person in the room. Place them in one location, if possible, and you will be more successful in keeping them during the crucial six months post-hire.
6. If an organisation is taking the positive step of having more diverse images on their websites and recruitment materials, the policy will seem contradictory if the hiring manager who older candidates meet is in their 20s or 30s. Acknowledge this and publish statements that the organisation is trying to make changes and become age-positive. It isn't there yet, but being age-friendly is something it wants to embrace.
Age Pioneers is Sponsored by Join Talent

A huge thank you to Join Talent for their continued sponsorship of Age Pioneers. Join Talent is a recruitment and talent acquisition consultancy specialising in helping tech, product and digital teams. It is one of the fastest growing companies in Europe – 13th place in the 2023 Financial Times 1000 Fastest Growing European Companies. It is also the youngest company on the list. Follow Join Talent on LinkedIn.
The Action Panel privately discussed these points following the speakers Q&A which is not recorded. To be part of this confidential conversation, get in touch HERE. Missed a session? Access previous recordings and articles HERE.