Author: Mark Herbert
The world's first CV is believed to have been written over 500 years ago by the great Renaissance painter and creative genius Leonardo Da Vinci. He is best known for painting the Mona Lisa (1506) but most people do not know that he was also a skilled architect and engineer. Writing at the age of 30 in 1482, da Vinci wrote to the then Regent of Milan, outlining his many skills in a bid to secure paid work. He listed eleven different skills, including the ability to build chariots that "no body of men so great would break them" and proficiency in sculpting "in marble, bronze, clay" and also stated that "I can do in painting whatever may be done".
CV's became standard practice by the 1950's, with the first guide to writing CV's being published in 1984. Fast forward to 2021 and a Google Search for "CV" reveals over 11 billion hits! Getting it right is clearly big business and everyone has an opinion on how to best do this.
Has the CV Had its Time?
The rise of increasingly stringent inclusion and diversity employment policies means that Employers are being forced to become more aware of their own unconscious biases when recruiting new employees. It is all too easy to recruit people in our own image, valuing certain traits or employment trajectories over and above others. Whilst these biases have probably always been a 'thing', they are increasingly no longer viewed as an 'acceptable thing'. Recruiters are having to work much harder to not only recruit fairly but also be able to prove they are doing so. CV's no longer hold a monopoly on the information employers need to look at.
So has the timeless CV had its time? By no means - CVs still hold great value but the truth is, they are no longer the first thing that many employers look at nor the main thing. So, what's missing?
The Missing Piece
The search for the best employment talent continues, with greater emphasis being placed on interviews and covering letters, as well as the increasing popularity of online assessments in order to filter potential candidates.
As Alex Hirst, chief executive at global agency Hoxby, says: "I think people are becoming wiser to the fact that hiring on the basis of qualifications and background doesn't necessarily mean you're getting the right person or combination of people".
Similarly, Bernard Ferrari states in his book Power Listening that "People come into business situations with résumés and pedigrees and objective measures of experience and prior success, but matters of character, suitability, and interpersonal chemistry are difficult to quantify. Instinct and intuition, while undeniably relevant when it comes to assembling good teams or fixing dysfunctional ones, can only take you so far".
Chemistry (finding people who will 'fit' the specific position being advertised and the organizational culture more generally) matters as much, if not more than competency. So much of the latter can be taught, whereas the former is more about character, motivation and behaviours.
Perhaps the missing piece in your recruitment strategy could be behavioural profiling? Book a call with C-me today and find out more.
C-me Behavioural Profiles
C-me produce simple, memorable and incredibly accurate psychometric profiles, enabling recruiters to understand a candidate's behaviour (preferred ways of doing things). Unlike many psychometrics, C-me focuses on behaviours, not personality, as these have the most direct impact on other people. C-me profiles are also very easy to use, requiring candidates to spend less than 10 minutes answering 15 online questions.
It is no longer necessary to spend close to an hour answering hundreds of questions in order to generate accurate profiles. Clever algorithms do all the hard work for you meaning that speed no longer has to be traded off against accuracy.
So How Can C-me Profiles Really Help?
Imagine for a moment that two different people with similar experience and skills apply for the same job. The tried and tested triad of CV, Covering Letter and Interview are applied to these candidates but even after these, it remains nearly impossible to objectively separate them. What is a recruiter to do?
Imagine that a fourth leg is added to the above trio and a behavioural profile becomes a standard part of the recruitment process. This would help recruiters reflect on the behavioural approach of the candidates, something that the CV, Covering Letter and Interview is not geared up to evaluate.
The profile would describe the preferences of the two inseparable candidates – perhaps one has a Red-Yellow preference and the other has a Blue-Green preference. This is illustrated in Diagram 1.
Diagram 1 – Candidate Behavioural Preference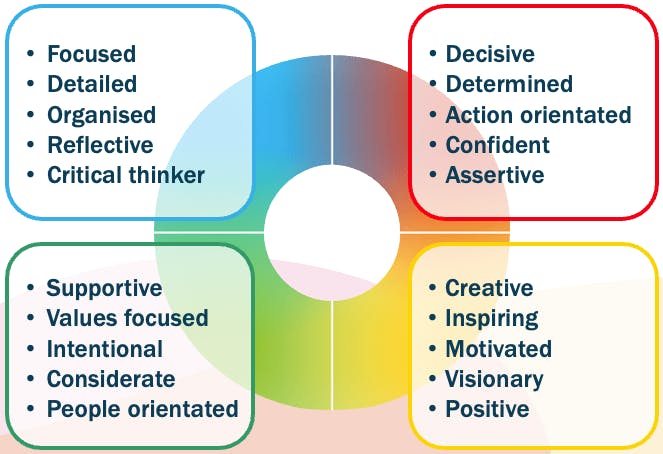 Two people. Same skill set. Same experience. Very different approaches to their work. C-me profiles can provide information that CV's cannot and this can add a lot of value to the interview stage of the recruitment process. Much-needed Colour is added to the otherwise fairly 'grey' approach.
Adding Value to the Team
Not only can the individual behaviours and approach of a candidate be assessed, but these can also be used to reflect on their 'fit' within the wider team. Bringing in new recruits is not without its relational challenges and many of these can be anticipated (and even avoided) when using behavioural profiling in a smart way. The diagram below illustrates this.
The colour wheel displays the behavioural preferences of the current team. Potential candidates can be profiled and then hypothetically introduced to the team by adding them to the colour wheel. Questions can be asked such as:
· What impact would it have on the current team if person A was recruited instead of person B?
· How might A positively challenge the current team?
· How might they unhelpfully disrupt it?
Diagram 2 – Candidate Fit with Current Team Profile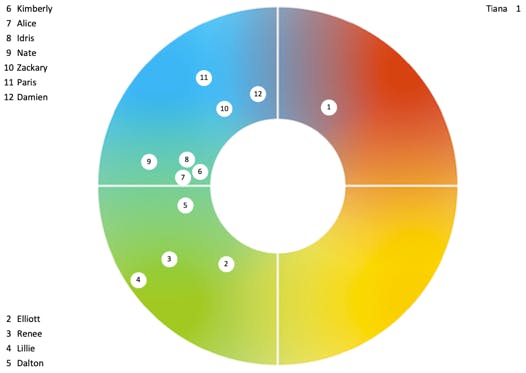 It is also possible to look at the current balance of the team and reflect on what the team most needs to strengthen and complement what is already there. C-me produces diagrams like to ones below to help do this.
Diagram 3 – Current Team Balance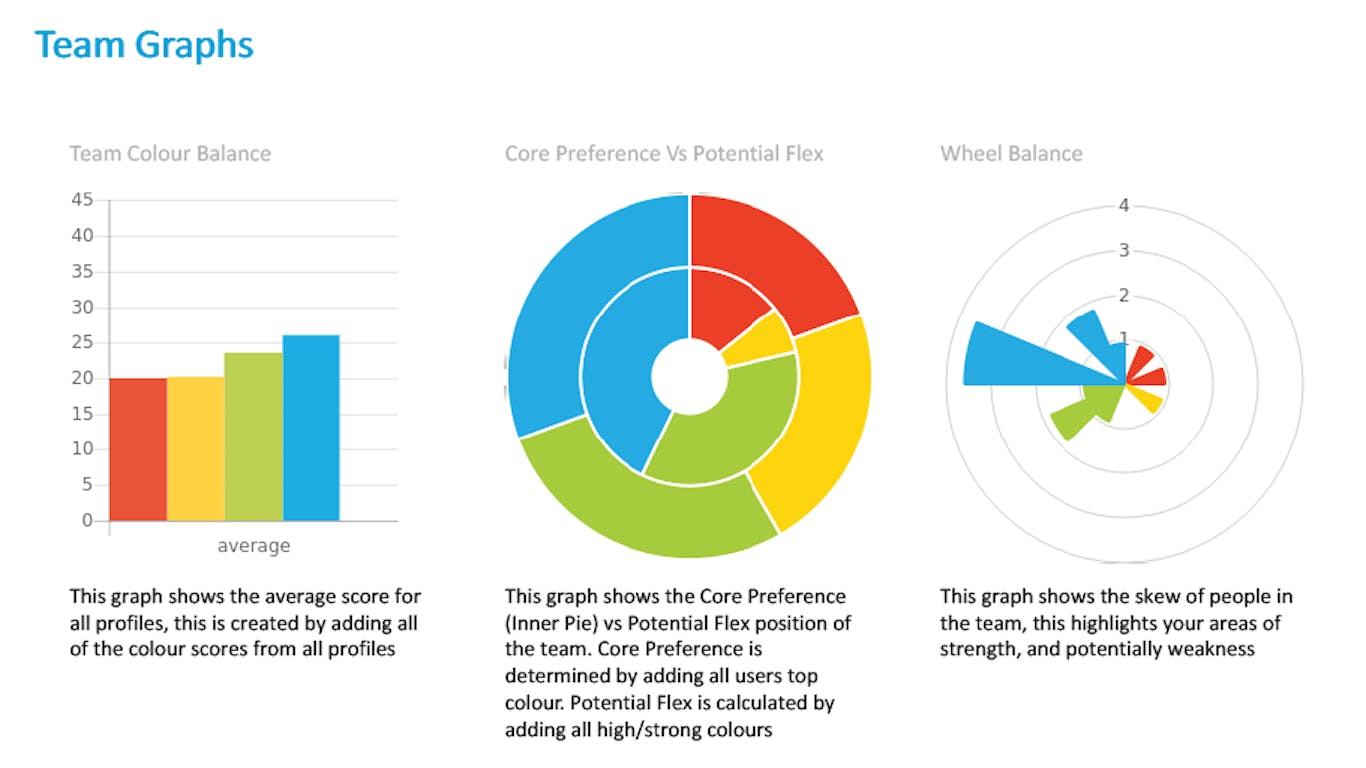 Need more persuading? Here are 4 big reasons to start partnering with C-me Colour Profiling today:
C-me would love to help you overcome your Recruitment headaches. It is what we do.
C-me has a great team to support you in applying the profiles and making the most of the information gleaned.
C-me profiles are quick to complete (less than 10 minutes) and produced instantaneously.
C-me profiles are very cost effective (only £45 per profile – this represents a huge potential cost-saving through avoiding wasted time and preventing the dreaded 'wrong hire' scenario).
Don't just take our word for it …
C-me profiles are practical, powerful and easy to use. They give an accessible insight that goes beyond other information the candidates provide and are a great guide for interviews. Adrian McDonagh -Founder, EasyWeb Recruitment
Macaulay Search uses C-me Profiling during recruitment for CEO and Director-level appointments. C-me provides a quickly accessible and deeply insightful complement to the interview process. We have also used their consultants to speak directly with the interview panels, distilling key profile points and formulating poignant interview questions. Both the Macaulay Team and our clients have found the C-me staff and services to be excellent, adding huge value to the recruitment process. Ewen McAlpine, Managing Partner, Macaulay Search
Speak with a recruitment profiling expert today
Speak with a recruitment profiling expert today