Understand your candidates' behaviour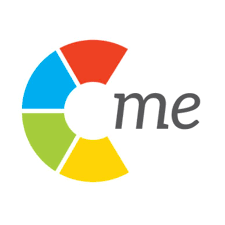 C-me reports can give you insight beyond a candidate's CV.
As we all know a C.V can only say so much about a candidate.
What about how a candidate works and approaches tasks? How do they handle setbacks?
Where are their development areas?
With a C-me recruitment report you will find out:
• A candidate's psychometric strengths and possible blind spots.
• The value they could bring to a team.
• How they are likely to handle setbacks and respond to change.
• Their motivations and how they might demonstrate commitment.
• ...Plus much more!
Identify how a candidate will fit in your team

Team dynamics are important and recruiting the right candidate for your team is key. C-me reports can give you insight into how a candidate may fit within your existing team.
Using the C-me Recruitment report and a C-me Team Wheel (which plots your whole team) you will be able to identify:
• The impact the candidate could have on the team's dynamics.
• What strengths and values the candidate may bring to the team.
• Whether the candidate increases psychometric diversity or fits into a cluster of similar preferences.
• The most effective way to onboard the candidate based on their preferences and how to manage their expectations.
Hire with no bias
C-me reports helps your organisation put diversity and inclusion at the centre of your culture and recruitment. C-me reports are:
• Non-binary, non-judgemental, and value difference.
• Applicable to any age, ethnicity or background.
• Value everyone as equals and challenge stereotypes.
How does it work?
1. Interviewees complete a short questionnaire online. With only 15 questions it takes less than 10 minutes to complete.
2. C-me's technology analyses their answers and produces a report that provides insight into the candidate's behaviours and preferred ways of working.
3. Coupled with the candidate's C.V, the C-me Recruitment Report provides powerful insight for hiring managers to make better informed hiring decisions.
To view an example Recruitment Report, please click this link or the image below.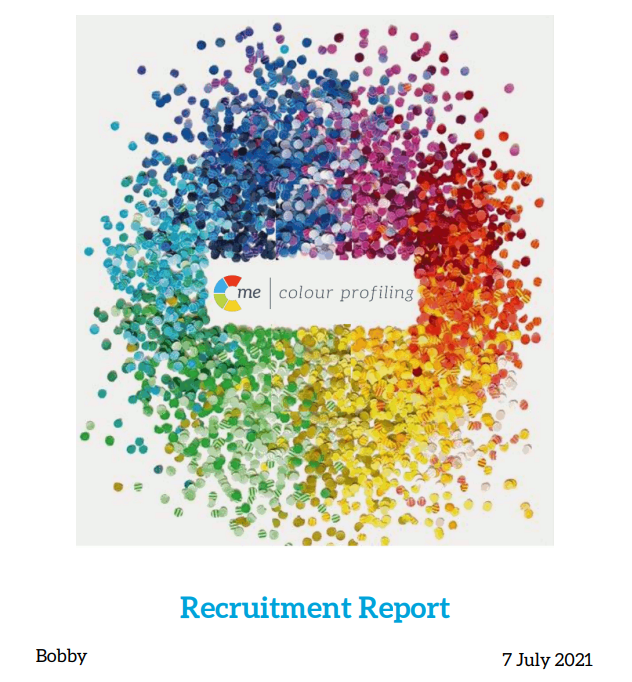 How are C-me Colour Profiling Reports used beyond recruitment?
C-me Colour Profiling reports are designed to add value across your organisation.
Underpinned by decades of psychological studies and research, some smart algorithms and a bank of over 40,000 jargon-free statements, C-me produce reports that provide powerful information for all of your people needs.
• Recruitment and people strategy
• Leadership development
• Team dynamics and engagement
• Diversity and integration
• Stakeholder management
• Sales performance
• Cultural audits
• Change management
• …and more.
C-me's online platform, C-me Live, allows you to integrate their psychometric profiling tool across your organisation.
Identify your Recruitment Gaps, Assess Candidates and Explore Cultural and Team Fit
Bespoke packages available to suit your requirements
Here's what C-me's clients have to say: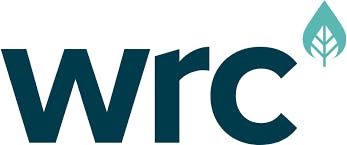 "C-me helps us make good decisions around recruitment. We can't afford to make recruitment mistakes. I believe we make better decisions all-round on selection, on promotion, on the right people for each team and getting each person to an even higher level of performance because we use C-me profiles" Mark Smith, CEO, WRC plc.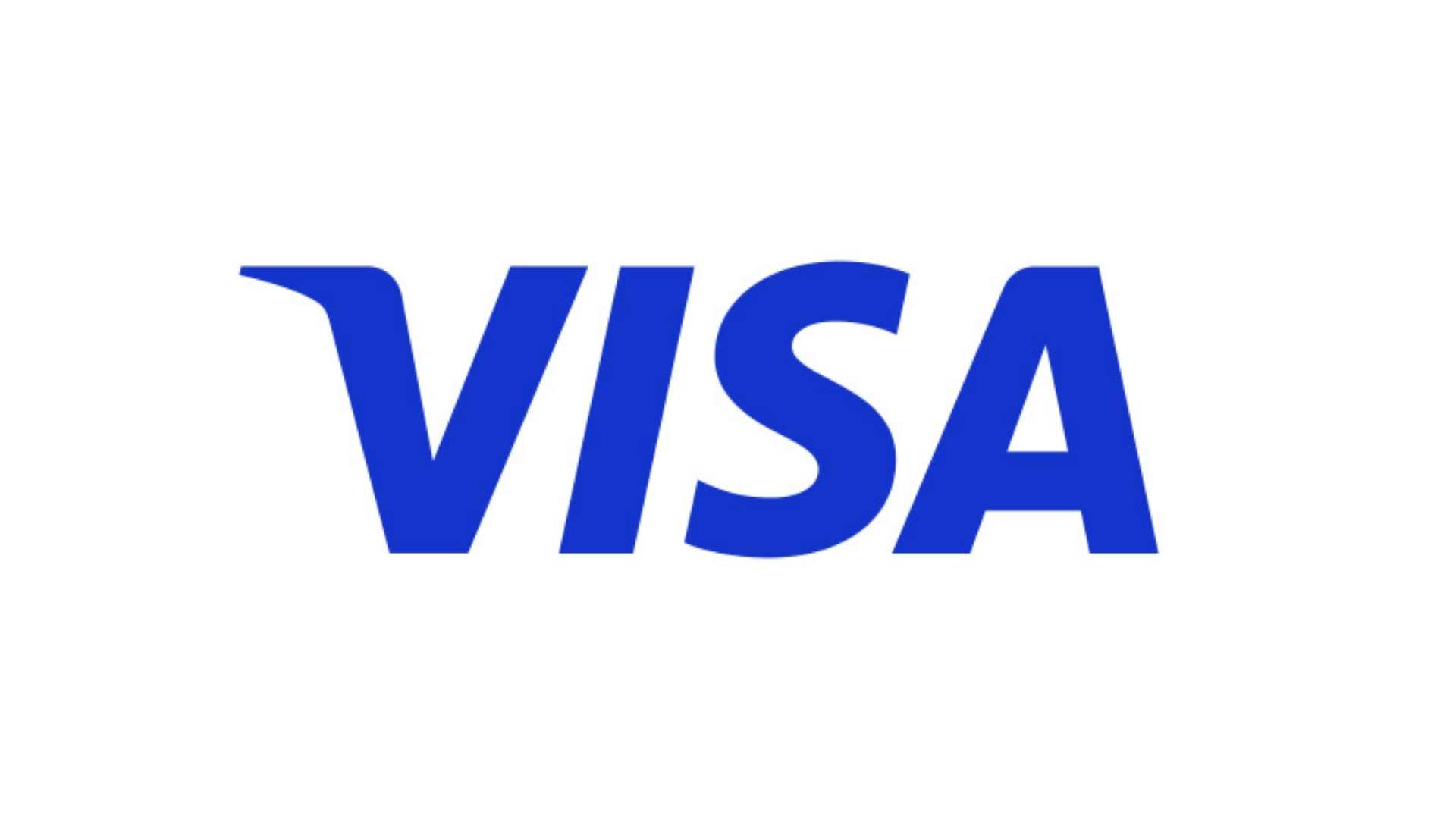 "Our teams came together in days rather than weeks and were able to deliver complex solutions against tight budgets and deadlines. C-me gave us increased clarity that led to high performing teams and increased employee engagement." Hans van der Velde, former CEO, Visa Europe.
Expertise
Established in 2010, with over 10 years' experience of training individuals, teams and organisations using a variety of different psychometric profiling tools, C-me Colour Profiling noticed something very important – people found it easier to relate to the idea of adapting their behaviour rather than personality. It made sense, behaviours can be more easily modified and to greater effect. Our behaviours can be coached, but our personality is very hard to change.
C-me has associated behaviours with colours to create a simplified way of understanding our complex psychological profiles.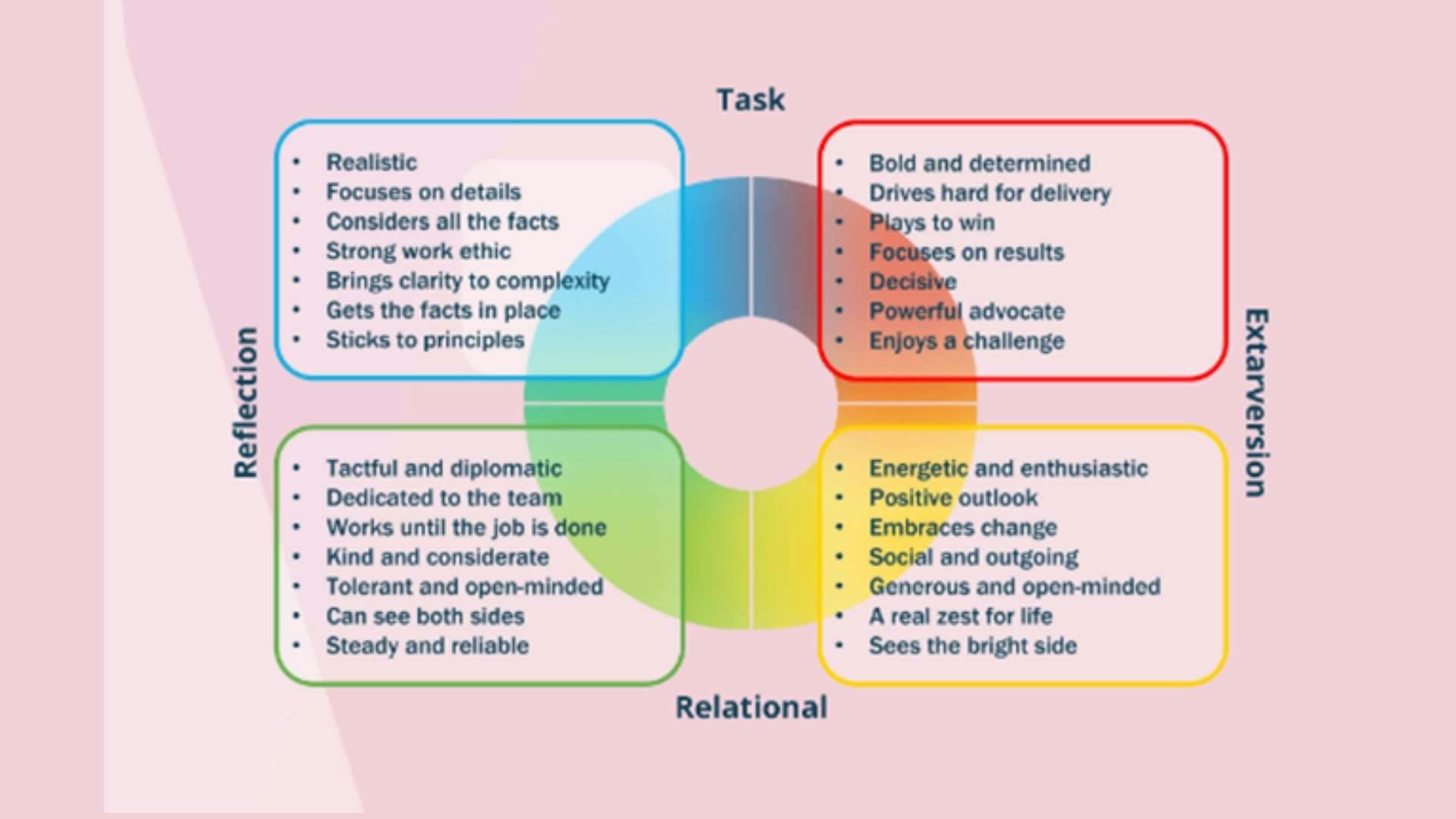 C-me Colour Profiling's purpose is to help individuals understand their psychological preferences and how those preferences drive aspects of their behaviour. When we understand ourselves we are then able to understand others and adapt our behaviour to improve relationships and drive business performance.
"Understanding ourselves and other people is crucial to effective communication and bringing out the best in one another," C-me Colour Profiling explain. "This helps individuals, teams and organisations to flourish and perform well. C-me is a tool that is accessible, simple and memorable, enabling it to make a dramatic impact on all who use it." 
As well as the reports C-me run workshops to help increase team cohesion and individual and team performance, plus train companies to utilise this information throughout their organisation.
We are delighted to partner with 55/Redefined, helping their professional, over 50s community secure access to personal insights and hirers and employers, improve the quality of their recruitment assessment and team insights" Simon Wilsher, Executive Chairman, C-me Colour Profiling
Get in Touch to Discuss Wider Use of Assessments Within Your Organisation
Undertake team assessment workshops or gain accreditation to become a resident C-me Colour Profiling expert.